Product Description
Rings name
Glory Gold Wedding Ring Designs for Men and women
Material
Available in Titanium ,Stainless, Brass , Silver etc
Sizes
any size in any standard
Profile or Outside Radius-Inside Radius-Edge Radius
Traditional Court
Wide&Thickness
5.0mm,5.8mm,6.2mm,8mm*1.8mm
Groove
line is matt; yellow gold color
Tolerance
±0.02mm
Surface Finish
half is polishing finish , hald is matt
Plating
18k Yellow gold plating , Mutiple-layers ;
Stone mm*Quantity&setting
middle-1.7mm*1pc; two side-1.5mm*2pcs, Gypsy Setting
Stone Type
Hearts & Arrows CZ
Production Capacity
100,000pcs per month
Price ( USD & EXW Term )
Brass dummys wedding rings
Titanium Wedding Rings
316L stainless steel Wedding Rings
925 steling silver
Weding Rings
Male
Please inquiry us
Please inquiry us
Please inquiry us
Please inquiry us
Female
Please inquiry us
Please inquiry us
Please inquiry us
Please inquiry us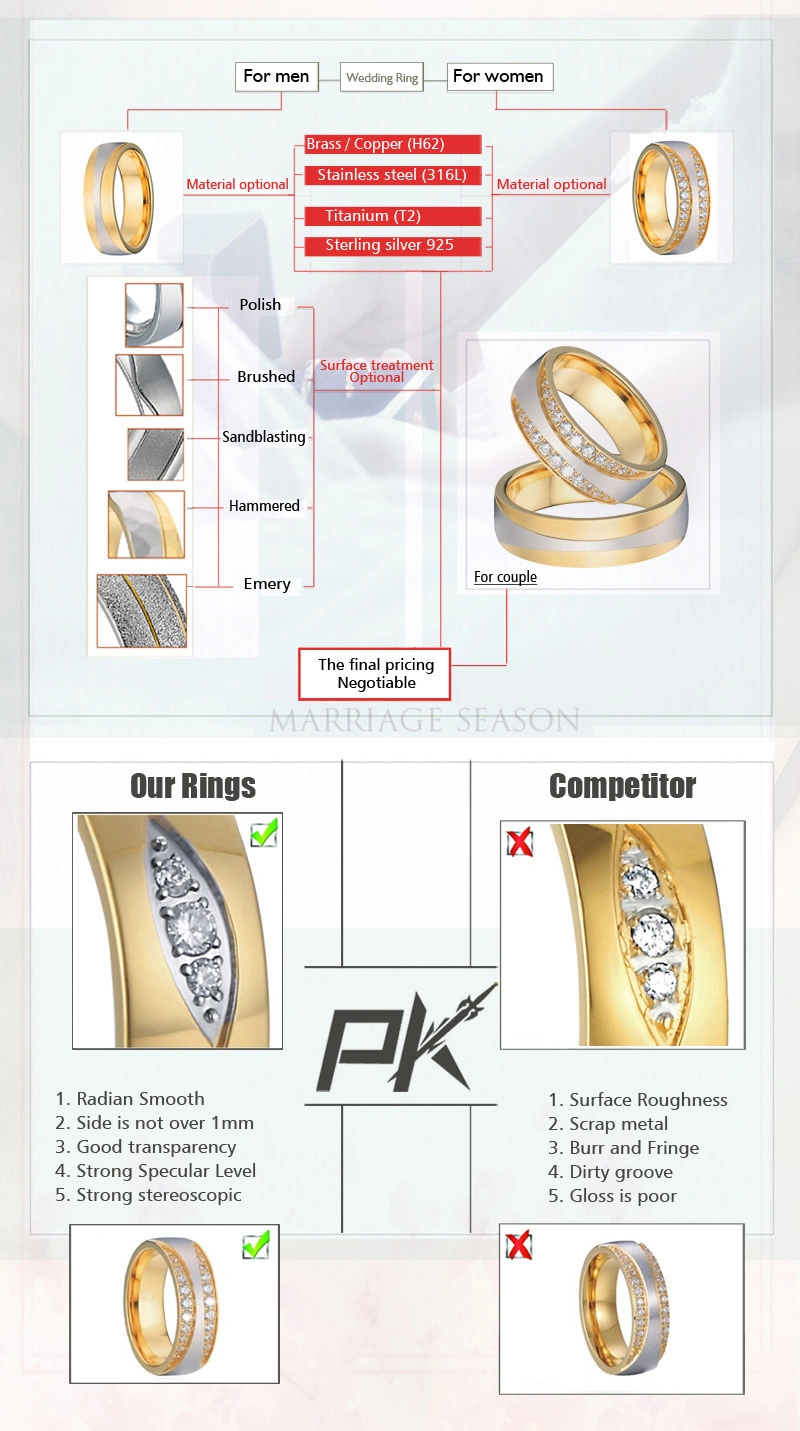 Production Flow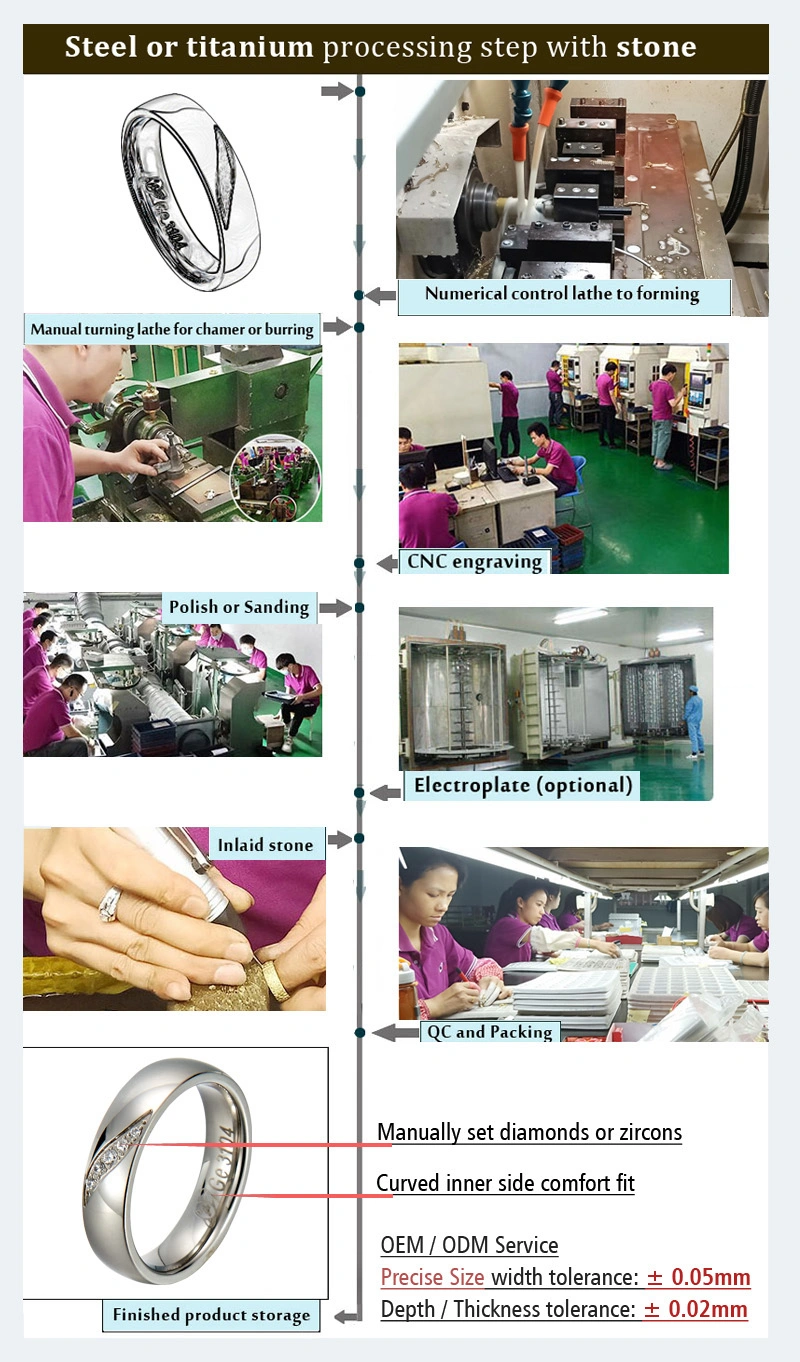 Product Uses
notes:
1, in daily life, don't put the platinum and gold wedding ring on the adjacent ring fingers, and because of friction between two down, gold powder on a gold ring with the platinum powder on the platinum ring will be attached to each other on the surface of 21 kind of metal ring, it will make local white gold ring, platinum ring local turning yellow.
2. In order to avoid deformation of platinum ring, it is best not to wear platinum ring when carrying heavy objects.
3. Palladium is not as stable chemically as platinum and is relatively easy to oxidize.Therefore, when wearing low platinum (low platinum refers to platinum containing less than 75% platinum) jewelry with a relatively high content of palladium, it is best not to have direct contact with acid and various cosmetics frequently to prevent the oxidation of palladium from causing the discoloration of platinum jewelry.
Maintenance method:
1. The platinum ring should be properly kept when not worn When need to carry on manual labor frequently, had better take
off the platinum ring on the finger in time, the platinum ring is stored alone in jewelry box or suede bag, do not put on the table
at will, avoid to leave scratch when working. Take special care not to rub with other jewelry or metal objects, which can easily leave scratches.Make it a habit to touch the ring less when wearing it, as sweat stains on your hands can affect the ring's luster.
2. Clean the platinum ring regularly Use a professional jewelry cleaner or soak the platinum ring in mild soapy water and wipe gently with a soft cloth.Platinum rings are usually washed every 6 months.Use toothpaste when the ring is dull.
3. Avoid contact with chemicals when wearing Platinum ring to avoid contact with bleaching or perfume and other irritant chemicals, although platinum stability is high, but these will let platinum color, affect the appearance, do not let platinum ring contact cosmetics.
4. Regularly polish the platinum ring When the platinum ring has visible scratches or has a natural oxide layer, the polishing process can restore it as new.
Related Products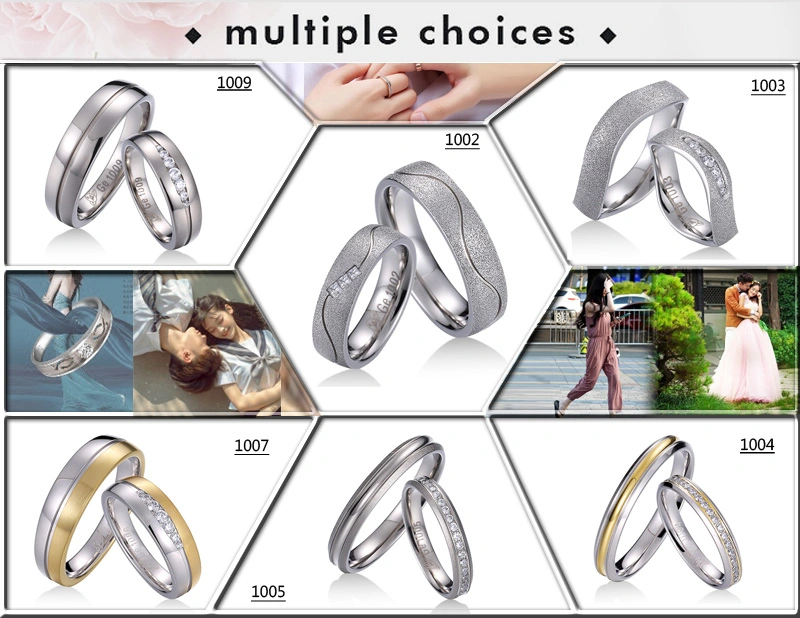 Company Information
Company Profile

Shenzhen Oumeide Technology Development Co., Ltd. is a professional

OEM/ODM manufacturer which established in 2006 in Shenzhen,China.

We focus on top quality wedding rings&fashion rings in variety of material. The owner , Mr. Ge Junjie and his R&D team has been in the industry for more than 20 years.
Oumeide dedicated to produce top quality titanium,316L stainless steel, sliver,brass,tungsten jewelry ect.We strive to be top manufacturer and expert of love series jewelry. Core products include wedding rings ,love jewelry series;Here we would like to highlight that our imitation gold rings (brass rings ), titanium wedding rings stainless steel wedding rings ,925sterling silver wedding rings are acceptable by several big wedding ring brands in Europe and America.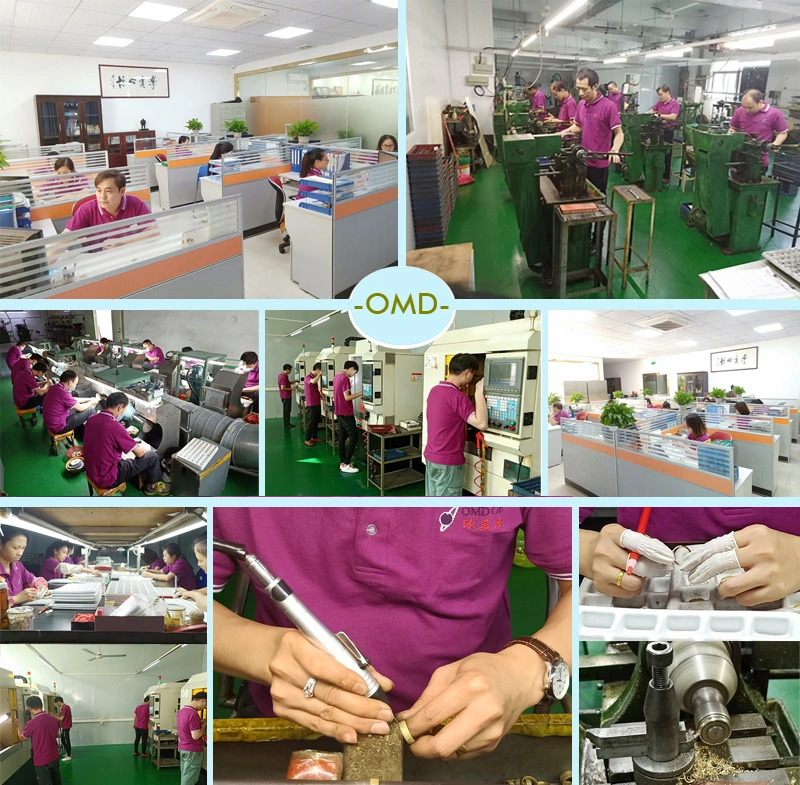 Factory briefly introduction:
Professional OEM/ODM ring factory , capable of making all kinds of rings in variety of metals . Able to manufacture any rings according to your counter-sample, CAD designs,sketch etc. Make fully efforts to be top jewelry factory in China.
Core product include :
Titanium, silver, steel wedding ring & engagement ring ; Gold inlaid Titanium rings ; Gold inlaid steel rings ; Dummys rings (Brass ring) etc
Production Capacity :
The actual production volume it's around 50,000.00pcs ; Production capacity can be 100,000.00pcs.
Factory History :
More than 20 years history to manufacture tungsten, titanium (TC4 ,TA2,TA1)and 316L stainless steel products; Just focus on high-end rings market since 2006.
Company strategy :
Make no concession to any poor quality ! Accept only quality OEM/ODM mass order . Concentrate to cooperate with reputable and professional jewelry comany .
Main Customers:
Have built stable business partnership with serveral famous European jewelry brands for many years.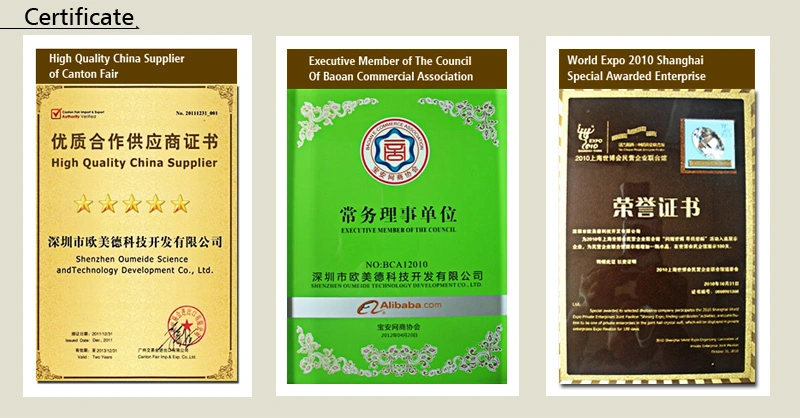 Advantages
( why choose us ?)
1. ALIBABA and SGS verified Gold Plus supplier.
2. Over 13 years experience,1273 square meter factory, 30 experienced workers, 101 precision equipment.
3. Use better quality material than other suppliers: higher density 925 sterling silver(no sand hole), higher strength pure
titanium(99.645%, HV 240), 316L stainless steel, higher density brass (H62). Materials can provide test reports.
4.Experience in customization,have made over 20,000 customized designs.
5. High precision products with ±0.05mm tolerance.
6. Efficient foreign trade team,quick answer, average reply time is 2.5 hours.
7. Safe package, door to door shipment.
8. Zero-risk after-sales service: any quality problem products, free repair or full refund.
Packaging & Shipping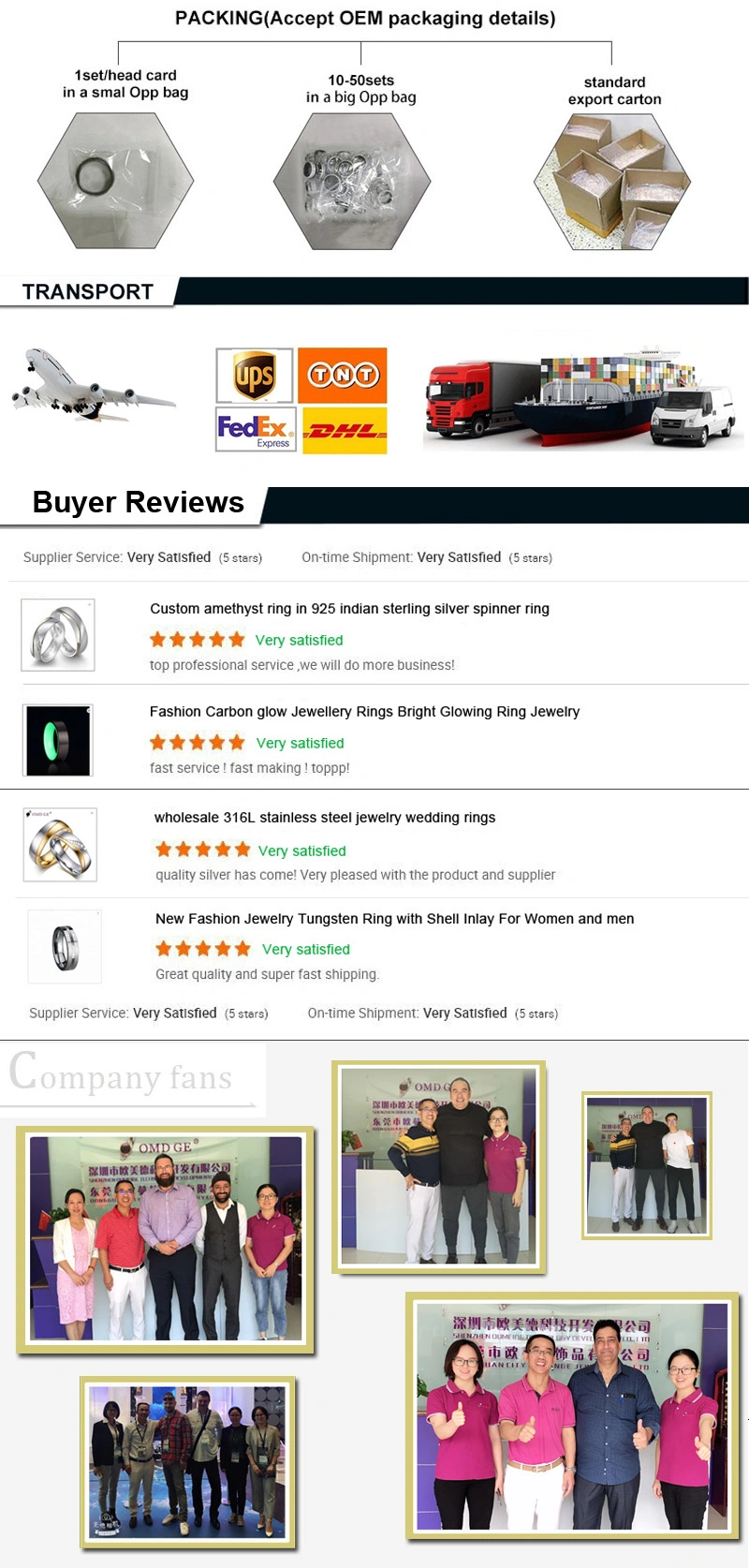 FAQ
Q1: What is your main product?
A: Our main product is wedding rings,but also make pendants, earrings, necklaces, bangles, etc.
Concise fine long single olive tip diamond can show the slender finger on the vision, make it smooth add a beautiful.
Q2: Can you do rings with customer brand Logo?
A: Yes, of course. We can either engraved logo on the surface of ring or laser logo inside of the ring.
Q3: Do you do OEM?
A: Yes, we provide both OEM and ODM service.
Q4: Should I pay for the samples?
A: Yes, we will let you know the sample charge base on your request. Normally, it around USD50.00~ USD100.00 for one design and one size of ring. The exact charge will be confirmed base on specific cases.
Q5: Can the sample charge be refunded?
A: Yes, full amount or partial amount will be refunded base on your actual order quantity for mass production. We will let you know it before you paying the sample charge.
Q6: How long will the plating color keep?
A: Electroplating color can keep one year, vacuum plating can keep 2~3 years under normal condition.
Q8: Can you support us for the after-sell service?
A: Yes, we can repair the goods for you by free they have quality problem. For other problems, we will charge you some repair